Govt. approved Diamond Classified Home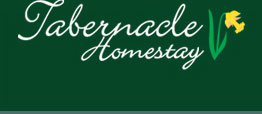 | | |
| --- | --- |
| | |
| | |
| | |
| Dr. Thomas Joseph and Mrs. Ruby Thomas Edayadi, your hosts at Tabernacle | |

Our Cuisine
Tabernacle Homestay is a place where you can feel 'at home' no matter where you come from. And good food is perhaps what endears you to any place, apart from the ambience and the service.

At Tabernacle, the food is cooked at home and served by your hostess with love. You have a choice of Traditional Kerala Cuisine (vegetarian and non-vegetarian) and Continental Cuisine, done to your taste. Puttu-kadala, Appam-stew, Kappa-meen curry, Parotta-beef, Sadya, and Karimeen Pollichathu, are some of the delicacies of Kerala worth trying.

During your stay at Tabernacle, you will even have the opportunity to be a part of the cooking classes organized by the hostess Mrs. Ruby Thomas Edayady, where you can learn the intricacies involved, try your hand at it and understand what makes Kerala cuisine exotic, delicious and a hot favourite among travelers from world-over.
cheap jordan shoes